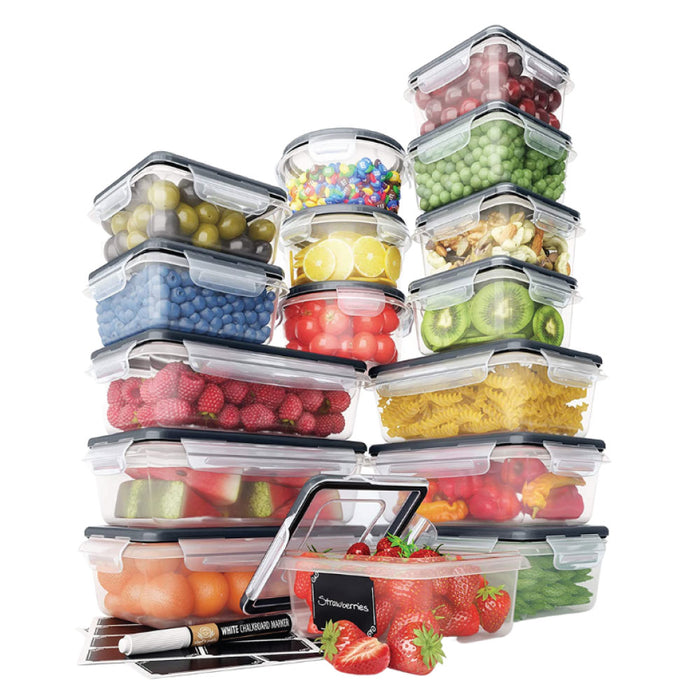 32 Piece Food Storage Containers Set with Easy Snap Lids (16 Lids + 16 Containers) - Airtight Plastic Containers for Pantry & Kitchen Organization - BPA-Free Food Containers with Free Labels & Marker
Original price
$35.00
-
Original price
$35.00
[Top Notch Kitchen Organization] - This 32 piece set include 16 containers with 16 lids along with labels and marker. Organize your kitchen with stackable food containers! These space-saving and efficient organizers will keep every inch of pantry cabinets neat, organized, clean and ready for whatever you need.

[Size Variety] - These air tight containers come in a wide variety of shapes and sizes for all your storage needs. Includes (3) 35oz rectangular container [4.4 cups]; (3) 30oz rectangular containers [3.8 cups]; (3) 25oz round containers [3.1 cups]; (3) 19oz rectangular containers [2.4 cups] and (4) 12oz rectangular containers [1.5 cups]

[Superior Design] - The 4-hinge locking system of these food storage containers with snap lids forms an airtight, watertight seal between container and lid to ensure no spilling! Can easily fit into your refrigerator, freezer or cupboard

[Best Bang for your Buck] - These meal prep lunch containers includes 16 airtight lids, FREE chalkboard markers & labels to organize everything without any hassle! These are microwave and dishwasher safe (without lids). Moreover they are perfect for storing your leftovers in the fridge

[Our promise] - We know you'll love our clear food storage containers. As pioneers of pantry organization and kitchen storage products, we ensure that our beloved customers are provided with the best possible experience.